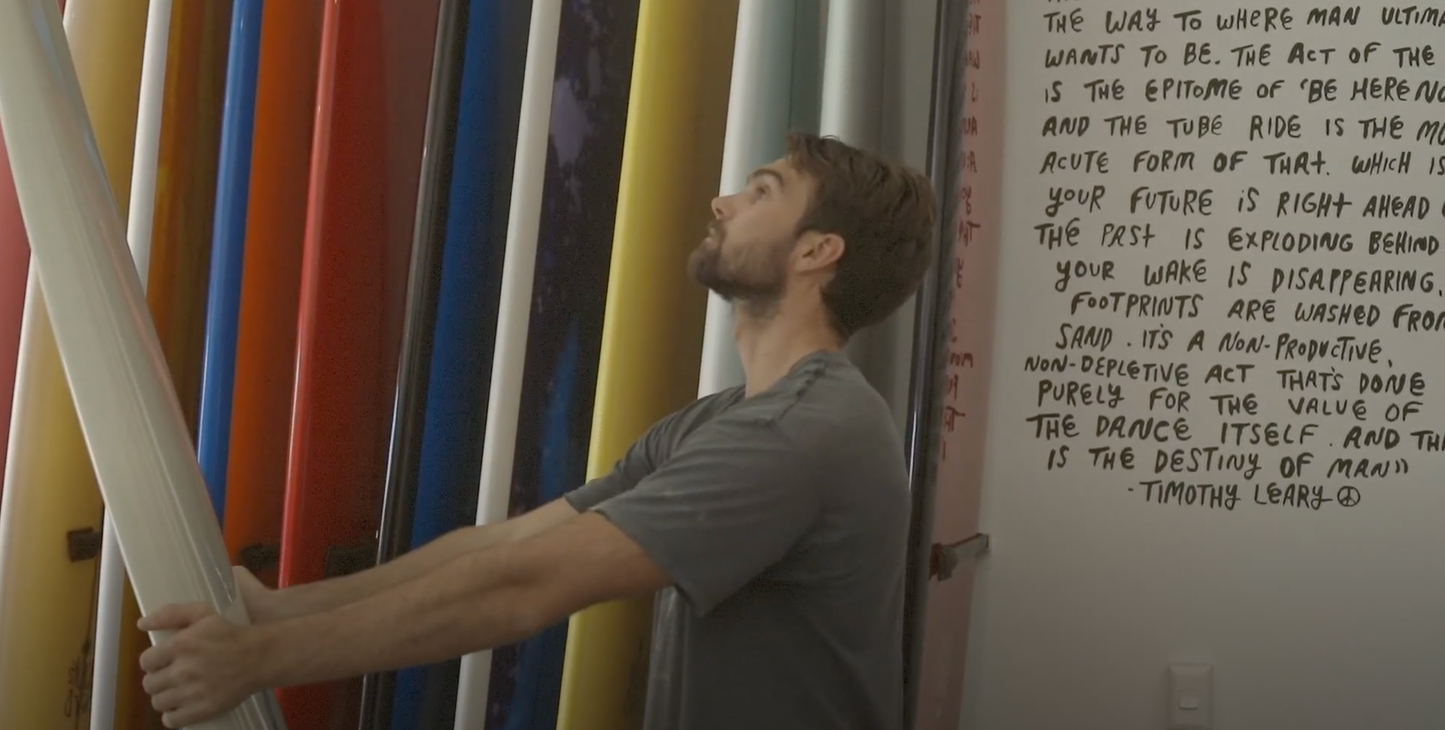 There's only one name that fits perfectly in this description and that's Eden Saul. The 33 year old Australian shaper from Lennox Head, on the Far North Coast of New South Wales Australia, has been creating alluring alternative surfboards from more than a decade now even though he's not sure how he ended up there. 
Paying exquisite attention to artful details and functional design, Eden Saul's design won't leave you indifferent. Like a work of art, it also looks for a reaction on the surfers eye.
"Dead Kooks surfboards are built with a keen eye for functional design and stimulating aesthetic details. I personally shape all the boards and work closely with some of the best glass-shops around the world. My focus is crafting custom boards for the individual but I also stock limited runs of my most popular models which have been refined by years of personal R&D and feedback from a mix of some of the world's best surfers who I'm lucky to work with and call friends."–Eden Saul.
| Eden Saul, The Man Behind Dead Kooks
Dead Kooks' The Riches TF Quiver at Pukas Surf Shop 
The man has been cooking surfboards simply out of curiosity and driven by the thought of making something different from what was being shaped at the time, like twin fins or the longest single fins. He wanted to create something that would make a difference. That's how he started tinkering around and yes, making pretty shitty boards at first as he recognizes himself. 
"You can teach someone how to do it and still is not gonna make it the same as you. Each one adds a pinch of this and a pinch of that and that is how the magic happens."–Eden Saul.
Hey, there is no success without a proper learning process that goes through the painful and rewarding path of making mistakes and learning from them. So, don't you think that Eden Saul's journey was definitely worth the result of what was born out of it? Dead Kooks Surfboards, such a gift. 
Who would have said that something that started like a hobby or something you like would end up being someone career, right? Well, Eden Saul hasn't forgotten they way he got where he's today and sure feels grateful about it every time he talks about his now career.  
"We are just making toys for adults. I'm just trying to keep it fun, keep it interesting"_Eden Saul

 
One of the challenges, and the magic, behind Dead Kooks Surfboards is maintaining the love, the curiosity and the joy that anybody that starts a new venture has from the get-go. And that is precisely part of the fuel that keeps Eden Saul on fire: the fact that surfing through challenging times, "you quickly realize that you know nothing and there's still a world to wrap your head around." 
"One of the joys of making boards is that you can bring to somebody's life from a little piece of foam and fiber glass that you get to make with your hands." Isn't it something? Have you ever reflect about the fact that the board you may have in your hands right now, that board that brings you so much joy, adventure, thrill, fear and all the emotions you can imagine, was carefully crafted by people who wanted you to have those experiences? Pure Joy.
Eden Saul, has played a big role making us understand why owning an alternative surfboard is key. It actually makes sense since, as he says, you wouldn't golf with a 3 iron the whole round, right? Totally right.
Having a different attitude, a different job … It just opens up so much different opportunities at the same time that it can make you hooked to that intoxicatingly  beautiful feeling: In a way, it makes you hooked to that routine of having an open and creative field when it comes to shaping boards. A white canvas to play and have fun.
Being around the Australian waves is actually a big advantage when it comes to the starting point of Eden Saul's design process: 'the testing lab' is totally accesible at Lennox to play. Mostly filled with right-hand points, it has helped and refine what a Dead Kooks is all about.
Thinking about the point breaks down where the boards are going to be surfed, is the way to go when starting the process to build a Dead Kook Surfboard. And we can't complain about the results, can we? Absolutely not.
"Everything is designed, shaped and further refined with performance in mind, tackling everything from 12ft gliders, paddle guns for Jaws to refined modern logs, fish, singles, and shorties."_Eden Saul
Eden Saul puts his experience surfing in Byron Bay, Australia, Venice Beach California, Hawaii, Japan, Bali or France to work in every single "beast" that he creates. This translates into a rich firsthand understanding of what works best around the globe to be part and excel in the world surfboards' shaping game.
 Wanna Have a Go Taming 'The Beast'?
Nah! We Like Them Wild & Crazy 
| Dead Kooks Surfboards at Pukas Surf Shop
At this point, you can really feel how Eden Saul has played a big role making us understand why owning an alternative surfboard is important; eyeopening even. Every board in Pukas Surf Shop's Dead Kook Surfboard collection has been shaped in their Australian HQ and glassed in Europe.