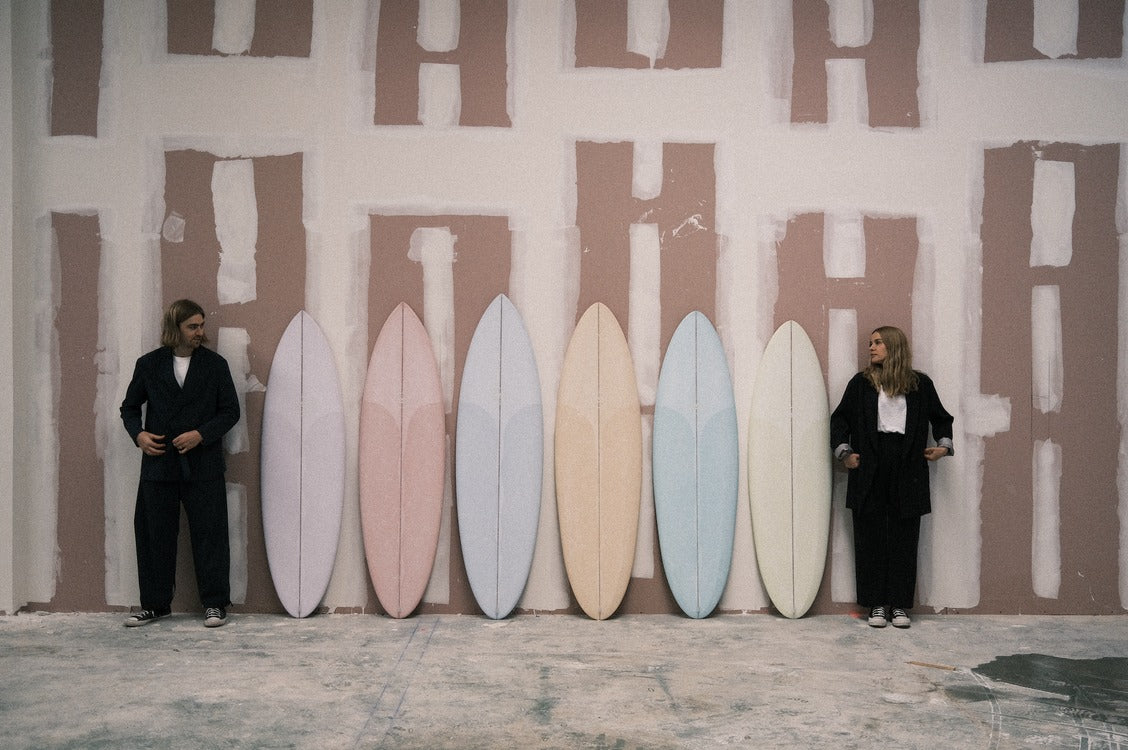 Australian Max Stewart is the artist, expert glasser, designer and one half of the family behind Eye Symmetry Surfboards, since Marta Campama, expert glasser and the woman that chose the color palette for these 6 exclusive surfboards for Pukas Surf Shop, is the other half.
This young man from Manly, Sydney, has been doing surfboards since the young age of 18 years old. Eye Symmetry Surfboards is already 10 years old. The first board for Pukas was build in 2016 and that is when it all started and, as Max says, "we are still dancing!." And now, Marta, also CEO of Eye Symmetry, is part of this amazing brand that you will never forget from now on.
| Eye Symmetry's First Steps
Focussing on the early years of Eye Symmetry surfboards and how it evolved to what it is now, 31 year-old Australian Max Stuart is the artist, expert glasser, designer and the man behind the first steps and founding of Eye Symmetry Surfboards.
 Beautifully Complex Conception & Extraordinary Performance 
When asked about why build surfboards, Max has it very clear. He has always like to build staff with his own hands and was into surfing so, it was natural for him to blend the two things together.
Before building boards he was actually fixing and repairing shoes! Something he loved to do. But as he got tired of it, he really wanted to build surfboards. He started doing a couple of boards in his back yard and soon enough he thought that it was time to start taking this "job" thing seriously. Max started and kept knocking on different doors until he had his first big opportunity when he arrived to Hayden Shapes doors in Sidney. He chased down the manage of that and then got the job going from zero to the best in the factory in only three years. That was the moment he decided that he was hitting his head against the roof. It was time to do his own thing and fly solo.
Max with some of the Eye Symmetry Surfboards Collection available at shop.pukassurf.com. 
| Why The Liking and Expertise on Epoxy Resin? 
On Maxes words, "that started because I was bread into it in Hayden Shapes." Around ten years ago, the market was moving into epoxy; that it was when epoxy started to kick. No-one wanted to touch it before that.  For Max is epoxy because he knows it very well; he is used to it and considers it's better material, more strong, more white, and, the boards last longer.
Eye Symmetry Pam Pam Surfboards Collection available at shop.pukassurf.com. 
Even though it is a superior material, it is hard to manufacture and more painful to work with. It's easy to have problems with glassing so shapers usually prefer to stay away from it. It is a lot of monitoring; needs a lot of patience and a very specific skills to work with it. It is very hard to find people that are willing to be patience and have the specific skill. This is the reason why Max set up his own factory and they do everything in house: The Eye Symmetry Surfboards house.
Max puts his skills, hard work, and intuition into a product that he desires people to enjoy. That's what keeps driving him.
 Three Features: Strength, Weight Distribution and Looks 
| Exclusive in Europe for Pukas Surf Shop 
We are lucky to say that we got a fresh batch of Pam Pams and BCN Twins surfboards. Two different designs that we will get to know a bit better.
| THE PAM PAM X MAX · ALL ABOUT COMPLEXITY
This design is the future signature design for Eye Symmetry Surfboards. It has three main features: 
· Everything in this board is a bit pushed up in terms of volume.
· The round nose 
· The four concaves entry to V from nose to tail
The Pam Pam design is all about complexity; a perfect balance between looks, design and performance.
· Let's Push Everything Up
| It is kind of a normal board cut down a few inches. With a double bump, the wide point is a biT forward on the board and we've got sort of a straight rail. If we want some speed, why have round rails? So, this will bring more speed between the feet. This will offer the surfer to go down the line a bit forward, back, turn off the hip...
· Round Nose |
This is the second big feature of the Pam Pam. We've got a lo of volume up forward so we are chopping part of the board off to reduce the arch of turn and help with paddling. You'll have all the weight under your chest when you are paddling into a wave. This will start to pick up the tail of the board and you will put force on the front of the board. The board, instead of bogging, lifts up and chips you in.
With the outline forward, the volume is also pushed forward. With the deck line of the surfboard getting down low, you can see that the stringer raises up under your chest. So, what is Max Stuart doing here and for what? He's pushing the volume into the center of the board as well, maintaining the rail volume pretty low so that you, as a surfer, feel a really good paddle power when riding it. You don't lose any performance either.
Max blends the rail from the tail to the nose really consistently so it is not really noticeable by the eye; you can't really see it. However, you can really feel it when paddling the board.
 Round Nose. Round Tail. Outline Forward. Wide Points Pushed Up 
| WHAT KIND OF WAVES ARE BEST FOR THE PAM PAM? 
This is a potencial and future signature model of Eye Symmetry and it encompasses all that Max is and embodies. It has been designed and build for small waves performance. It is a perfect choice when you encounter waves to over head waves. You will enjoy a pretty performance, being able to move the board around a lot thanks to its round tail. The board is also a bonzer (5FIN), so allows an alternative surfing. Get creative!     
| 

CONCAVES PATTERN from NOSE to TAIL
· Bottom concave | This concave is not crazy. It has a very subtle four concave entry that can be really felt with your hands but are barely noticeable to the eye due to the extreme and delicate craftsmanship behind this design.
The four entry concave breaks up the water. In one hand, if you got one single concave, it can stick on turns and stay like that sometimes. On the other hand, a V entry can make the board more loose. So the Pam Pam's design is in between those two. This is something that Max does on most his surfboards designs.
· Single Double Concave | A really subtle single with double concave follow the four entry concave, so this board is gonna be for small waves. Max doesn't one a slow one so we've got a single concave that lifts the board above the water and makes it go fast in small waves. Under the front foot, the belly of the board, just transfer pressure if you want speed. Following this action, the board lifts and responses, gives you speed. 
· Double to a bit of V | The back of the board finished with a double concave to a bit of V. Max wants the back of the board really loose. The V is the opposite of a concave, so it makes the board really easy to maneuver and turn.
| SCALING UP & UP
It's design is a scalable one up to a full operating gun in a 8'0 / 9'0" range; that is something that Max will start working on this winter 2022.
As we go bigger on this design, the concave reduces and in turns into a V.  It's all about slowing the board down, making it easy to turn. You don't want it to go supper fast on a 34ft wave, bouncing like crazy… When scaling up, we stretch it out, put more rocker, more tail and nose lifts. At the end, we take the concave out and put the V in. This is the main idea when it comes to start scaling the Pam Pam up this coming Winter 2022.
The flat deck and double rail will increase the volume in the back. The pro surfer 
Tom Carroll, who has tested Eye Symmetry surfboards, likes this type of deck on his bigger waves guns, and that is a feature that Max to incorporate and work on a really big wave board. 
This alternative bonzer model will be transformed to perform awesomely with high waves to 34ft waves. We cannot wait to see this one live!
| CONSTRUCTION. BEHING THE SCENES OF STRENGTH
Let's go see the construction process step by step:
· Blank | Choosing the blank, the foam is key for a high quality surfboard and this one has a winner. Max always starts with a regular, really high quality blank from Surfblanks Australia. This translates into a very strong, very light, and with a really tight cell structure PU.
· Resin | The resin used for Eye Symmetry Surfboards is the epoxy resin.
· Stringer | Red cedar stringer, always a great choice for consistency in quality and looks.
· Color Work | It's done with tints in the glass. Pigments are added into the tint to obtain the different colors. The boards are glassed with color, finished with white marble spray and added a final clear epoxy resin.
· Glass Work | Max is an absolute expert on glassing. These are double glassed. But no, the surfboards are not heavy. Why? Let's go for it:
> 2oz. glass in the bottom, obviously it is the half of the regular 4oz. glass that it is used to glass a board with
> After, Max tights pop and glasses the 4 oz. wavy patches that you can see on the top of the board. The function of the patches will help you pull the weight back because without them, the board would feel a bit nose heavy. So, in order to offset that and to stop it from interfering with surfing, Max pulls the weight to the back of the board. This helps to balance the surfboard.
> Another 2oz. glass goes on the deck, spray the white marble finish and then clear 2oz glass again.
 Three Features: Strength, Weight Distribution & Looks
· Leash Loop | The final touch comes with the epoxy leash loop. Why an epoxy loop? Becasue Max doesn't like to drill the board nor add a piece of plastic to it. This epoxy loop won't break; it is supper strong. We recommend to put the tail pad correctly so your foot does not go over it. Be safe!
Marta chose the color palette and mixed them for this batch of 6 boards.
| SURF SKILLS & A BIT MORE
· Surfer Skills | Medium to advanced surfer. This design was built for people who can surf. So, if you know your way around surfing, consider yourself lucky to be able to taste this complex yet satisfying balanced flavor.
It would go good with smaller surf, specially as a thruster or even a quad. It would suit someone who is not as good as a surfer and looks to surf beach breaks on a daily surf. That is what they have been built for. 
· Recommended Fins | This bonzer model does go well in both, thurster or quad. Max has the quad in mind more but colleagues and people have been riding them in thruster, like Tom Carroll. We would recommend, just because of the V on the board is already quite loose, to use a fin that is not small. So medium or large with a bit of rake would be advisable, meaning, choose a fin protruding back more other than more upright.
It also depends of who the surfer is, how the waves are… Al Merrick fins are a good fit; they're performer a little bit up right. It could work for someone who wants to surf top to bottom, and less drivy. 
FCS II Split Keel for quad disposition would be the one of a hell option as well.
Pro-Tip: Stick away from super up right fins overall.
| THE BCN TWIN x Max| · ALL ABOUT SIMPLICITY
This model is a spin from the older thruster version of it. Max Stuart transformed it into a twin fin. This one is gonna be the signature twin fin model alongside with the Pam Pam for Eye Symmetry Surfboards.
This design looks similar to the thruster but the main difference is that this one is a bit flatter and has a little bit more V on the back on the tail. The volume has been pushed forward, just like in the Pam Pam model. It still got the volume forward on the deck of the board, and the outline is pretty pushed forward too. Overall, it has a simple outline. As Max says himself, "there is nothing too crazy going on."

The rails are a bit lower than what Max uses in a short board originally; they are also a little bit more refined. Being a twin fin, it is a little bit less whole so Max is looking to get a little bit more control from that area of the board. The rail, the reduced tail, outline, volume and the V, are just gonna slow the board a bit down which will be giving the surfer a bit more control.
This design has a similar concave and construction to the Pam Pam surfboard. A four concave entry with a little bit more double and a quite bit more V than the Pam Pam. It is everything very subtle but it will offer a more controlled ride.
Pretty low rails, pretty pulled in tail not too fat, two fins, V…
| SURF SKILLS & A BIT MORE 
· Surfer Skills | Recommended for medium to advanced surfers. For those who know how to surf and surfs good. Someone that has the knowledge and is pretty skilled surfer, would even be able to surf this board on pretty big surf. He needs to know how to move not aggressively with the board; meaning, being able to work with the board.
This board is perfect for a flowy, drivy kind of style. It asks for a bit of a wave, a bit of size and push, like a point break or a beach break that has a bit of power, and a bit of length. With a twin fin you want a bit of room to move on the wave face too!
· Recommended Fins |  Your are looking for a pretty upright fin but not a keel and not a super upright. We are looking for something in between, like a Chris Christenson Twin FCS or the FCS II Power Twin.