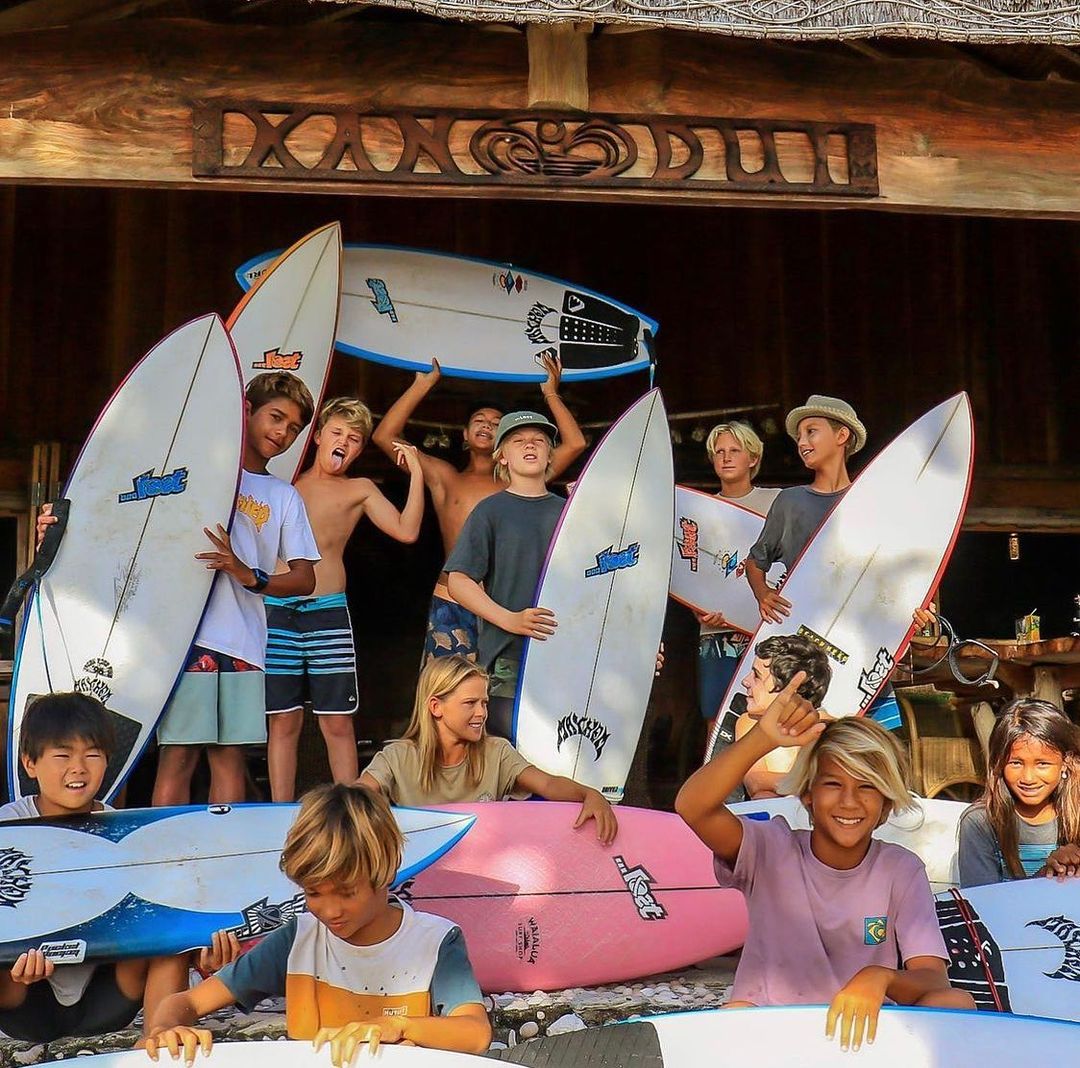 Groms Are Taking Over!
Younger and smaller surfers have different needs and a Grom surfboard just fulfills those need since they are specifically made for these surfers.
The Grom surfboard is perfect for those young surfers that want to take another step towards high performance. It can be a great transition surfboard right after surfing with a softboard or the surfboard that an uncle let him to start practicing.
Leihani Kaloha Zoric - 8 years old
Groms Surfboards · What & Why?
Where does the term 'Grom' come from?
The term was first used in 1964 but Nicholas Tomalin who stated in an article on a visit to Newquay: "A surfer who is no good or just beginning is a 'gremmie.'" Afterwards, the term 'grommets' appeared in the book Lockie Leonard Legend by Tim Winton as: "Things are never as simple as they seem, not even for grommets."
From then on, the nickname gremmies became shot for gremlins referring to how the youngsters looked after a day spent on the beach. The term grommet, grom for short was initially intended to refer to inexperienced surfers and had a bit of a hazing and prejudice in the past. It has evolved since then and now young talent is encouraged to explore their talent surfing.
 Groms are Taking the LineUp & Talent is Served 
What does Grom mean today?
Well, a grommet or 'grom' for short is a term that describes the under 16 younger surfers in the lineup whatever the gender. The young talent cooking and enjoying the beginning in the surfing journey  that have a surfboard shaped to meet their needs under their feet whether these are to take a new step into performance or improve maneuvers on a wave.
From munchkins to adolescents, these too young folks, as the adults, need to choose their sticks based on specific weight, height and surfing ability.
A Grom surfboard is usually a shortboard and has a width of 15-18  so that the young surfers can get a hold of it under their arms. What is great about these surfboards are that, having in mind who they are for, they usually are designed so they can offer nice stability and can be maneuvered easily.
No surfboards were made specifically for these young surfers in the past and, in the recent years, they do have the opportunity to get one of these, so we can see more and more young surfers enjoying themselves, owning the lineup, showing their skills with surfboards created to function in specifics ways. Now they have the specific tools to show how talented they can be with a high-quality Grom surfboards. These are a perfect fit to help them increase their abilities ripping waves. They only thing that can be a challenge is to choose the right one since kids don't stop growing.
Leihani Kaloha Zoric - 8 years old
Differences with Other Surfboards
One of the biggest differences among youngsters and adults is that children are still growing quickly and will outgrow a surfboard just as quickly. Their ability to learn and adapt is also outstanding comparing with and adult.  Grom surfboards are designed and shaped having this two key questions in mind.
Being able to float, paddle, and pop up or stand easily are things that, as a beginner, a grom will need in a surfboard.
Enough volume and width will offer the stability needed and facilitate the paddling and standing up quickly.
Being able to adapt fast, young surfers spend less time learning new things so the don't need as much in a beginners board as much as adults do. So a fish can be a beginners surfboard for a grom, but quite a challenge to begin with for an adult. This is related with the lighter weight and shorter height, which helps a lot.
Youngsters need to have fun in the process, avoiding frustration and they will be replacing boards on average more often than adults do. Grom surfboards, that can be amazing performance surfboards, are also less expensive than a typical board.
The Best Grom Surfboards
It is all about balance. Keeping balance between maintaining a high-performance while also catering the needs of smaller, younger and less powerful surfers.
The perfect Grom Surfboard will encounter a combination among the skill level,  age and size of the young surfers and also, the power and size of the waves they will be riding.
 The Best Choice to Nurture Your Passion 
Today, lots of brands are making grom boards so a perfect performance board that suits these younger surfers abilities can be find for sure: …Lost Surfboards, Pukas SurfBoards, Channel Islands Surfboards, Indio Endurance Surfboards …
A selection of these grom surfboards can be find here, at Pukas Surf Shop.
Keep in Mind …
Encouraging the young surfing talent is a always a good idea when the kid is full of passion for it and, if that is the case, a grom surfboard is actually a great investment. 
Youth has now access to modern surfboard technology by acquiring a grom surfboard that will allow them the mastering of surfing at a very young age. This way, the progression of surfing is never haltered. 
If your kid is not sure about surfing and wants to give it a try, getting a softboard is the right approach and you can see a big selection here. However, once they master the basics of surfing and are passionate about it and determined to continue pursuing, a grom surfboard would be the next step to unlocking their full potential.
Grom Surfer with ...Lost Grom Surfboard 
---
Check Out Grom Surfboards Ready to Take Home!