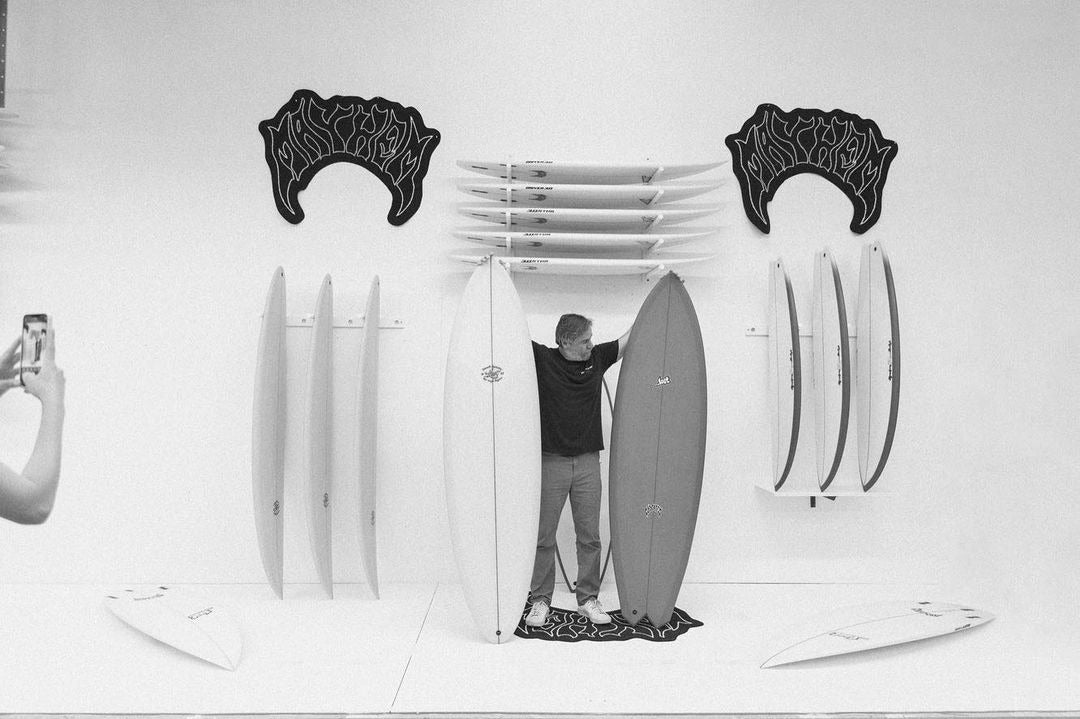 We are lucky to have Matt Biolos back in Europe and visiting us this week. We've had many conversations and the opportunity to see him and his daughter Ryder Biolos work together while painting surfboards in Olatuberri, Pukas' new surfboard factory in Zarautz.
Matt Biolos shaping and Ryder Biolos painting at Olatuberri, Pukas' brand new surfboard factory.
What you may know about him are some facts like he's from San Clemente, California and the cofounder of …Lost Enterprises, a surfboard and surfwear manufacturing company. What you may not know is that the name …Lost was written and scribbled by him and his highschool friends on the back of notebooks, skates before becoming what it is today. If you want to get to know about him and the story behind the relationship with Pukas Surf, you have it easy: just keep reading because in this interview he's giving it to us straight.
---
INTERVIEW | A chat between the master shaper Matt Biolos and Adur Letamendia
From the revenge of the nerds, to the punk-tinged …Lost Surfboards success
· How does it feel coming to the Basque Country having yellow jerseys all over? Including yourself? ·
I don't think a yellow jersey suits me. It's like looking at a bumble bee with a beard (chuckles).
I mean, we are used to it with Carissa, she does it a lot, for many years now. But for Griffin (Colapinto), a guy from San Clemente that we have been working with since he was a little child, it is pretty special. And that they both won the contest Surf Ranch Pro x 805 Beer at the same time is pretty special. It feels good.
Carissa Moore and Griffin Colapinto, champions of the Surf Ranch Pro x 805 Beer 2023
· What is gonna happen in Salvador? ·
Whatever happens, they both did good already. Everybody at the semifinals, it is always going to be difficult to be Felipe Toledo at a wave like that. Griffin did it last year and he can do it again. Carissa is the favorite. If she gets two waves, she wins. But it is very inconsistent so it could be anyone. 
· Let's go back to the start. What's …Lost history? How did it all begin? ·
…Lost has a humble beginning. We were not the cool kids, not the rich kids, not the good looking guys with the fancy cars and not the best surfers. We were like the average guys; the revenge of the nerds. …Lost is like, kind of every man's brand. That was basically it. 
Fun, laugh, drink, party, surf, skate, play but not take life too seriously. That is who we were.
This was in the mid 80s. My friends and I were at high school, writing team …Lost in our notebooks, scribbling it on our surfboards, skateboards…
We were doing all of this before even the brand was born, way before. It was like a high school thing. 
Our motto around 1991/1993 was 'confusion', yeah. Well, I started shaping in 1987. I never had a jog, I had high school jobs but I never had a job after high school. I went straight to the surfboard factory. It is all I have ever done. 
We cannot even remember when we started to make a legal, a real business and a brand. It was 1991 or 1993. In reality we did it both times and we started over. It is just to make fun of companies saying 'established'. It is like, who cares when you started. What is important is how you finish. 
· And the finish line is not near, right? You've come to visit with your daughter, Ryder ·
Even regardless of my daughter. My daughter paints surfboards and she's probably gonna go to college in a year and she wants to do her own thing. My other two daughters are in University, and my son surfs everyday… But if they don't want to take over the business, that is fine. My point is I don't want to stop. Why retire from this? Why retire from something that you love. I love what I do, the highs and the lows, the stress, being around the young people. It is not the kind of thing you retire from. Look at Bob Dylan, he's still playing and will continue to do so. So will I.
Pics of Olatuberri, 
Pukas' brand new surfboard factory with 
Matt Biolos  and Ryder Biolos doing their 'thing'.

· How did the relationship between you and Pukas start? ·

I don't know exactly why it started but I remember Miguel, Marian and Tala walking into my warehouse. Kind of a little surfboard warehouse and a garage; basically a garage in San Clemente around 1996. They asked if I wanted to come here, to Pukas in the Basque Country. 
I remember meeting them and talking about coming to Europe. I don't remember how much later it was but later that year I flew here for the first time and made boards here in 1996 or 1997. 
· How did a proposal like that feel at that time? ·
It was cool. I knew of the brand Pukas since the 80s. You guys were the brand here. I knew the logo, I knew the name; we knew about Hossegor, Mundaka… This was the mid 90s. I actually sent Chris Ward and Cory Lopez here in 1995, you know? We were doing things, we were sending boards and surfers here. However, myself having the opportunity to come here, it took a couple of years. 
We knew what was going on, we knew what was happening even though we could not Google it yet. 
Matt Biolos shaping and Ryder Biolos painting at Olatuberri, Pukas' brand new surfboard factory.

· What made Pukas standout for you? What got your attention to join forces together? ·

Well, there's a lot! They have a history. Manufacturing for 40 years or so. You have the retail stores. You have just the decades of creating the culture. You have decades of team riders. Decades of their owners and their family traveling; multiple generations of traveling the world.
You guys always stayed involved: going to Hawaii, Indonesia, California… Go around the world whatever is happening, whatever is new… You guys always stayed on the cutting edge, on top of the trends and stayed in ties. Especially during the Hossegor event year after year after year. You had to come here and be a part of it.
· Surfboards, where are they evolving to? ·
I think that the evolution of surfboards has slowed down. It has become much more detail oriented because to surf you still have to catch waves, so the surfboard, the big visual, the size of the surfboards, it can't keep shrinking. It got as small as it could and bounced back. Because in real surf, in real performance waves you start to paddle, you need to catch the waves, you have to duck dive, you have to negotiate… So, from 10 feet away the surfboard has not changed much from the past 10/15 years but the details are always evolving. 
The young surfers drive the evolution of the surfboards. The way that the current world class surfers, the top 5 eight or ten surfers of the world. They are driving surfboard designs. Surfboards are getting more and more features. Like the modern 6 foot high performance board can withstand more power, turn tighter radius, hold an edge, fly higher and turn harder than boards ten years ago. That is because the latest crew of guys like Medinas, Toledos, Griffin… whoever they are, or Italo, Jack Robinson, Ethan Ewing, John John Florens… Elite surfers; they are driving that. They are pushing the board builders to make the boards withstand the demands that they create. 
As far as materials go, because of the constant fine tuning or refinement of the shapes and the fact that surfers ride a different board at the elite level and in so many different locations is a different board on different days, it slows down the transformation into radical materials. We are having a lot of fun with epoxy and carbon in smaller surf, in smaller high performance waves. The lightness of the board helps, the fast reaction of carbon, you know the way it flexes and reacts fast… However, as the waves get bigger and more solid, the old fashion standard construction performance wise is still very hard to beat. 
So here we are whether it's in Zarautz, with this new beautiful factory or back at my place in San Clemente or in the Gold Coast of Australia or in the shaping bays of Hawaii, northshore, we are still building the bulk of our board the old fashioned way. And the best surfers in the world are more than happy to continue riding them. 

· When it comes to shaping, why is the touch of a shaper key? Why not let a robot do the job? ·
The robot can't feel imperfections. The robot can't make changes as it's going. The robot doesn't feel or have intuition. These are real things. I don't say the robot doesn't have a heart. I robot doesn't have a soul. That is bullshit. Forget that.
The difference is that when you are shaping a board and you feel a bump or you want it to flow more… You can feel and do that with your hands. Feels a little bit thick and you can thin it. If it feels a little bit sharp? You can push it in and make it more full again. You can make changes on the fly, adjust and adapt; and you have intuition. You look at the person, feel the board and make adjustments. The robot only does what it's told. The robot can make beautiful replications of existing boards, but if it makes a mistake with no person to check or change, then you find stagnant and you lose progress. You lose progression. you lose adaptation.
All the shapers working with elite surfers, role designing the board with CAD; the CAD and the machine does half the work and the other half you do by yourself. 
· Who are the famous surfers in the world that have gotten your surfboards and caught your eye as well? ·
Over the course of thirty years I've made boards for surfers during the first 5 or 6 years of my career. But it really started with Chris Ward and Cory Lopez. They were the utmost important for like a ten year round.
Then, Taj Burrows was huge. Having him come over to me in the later part of his career, we started winning a bunch of contests together. Kolohe Andino and Carissa Moore, that happened and it's been going for 10/12 years. Kolohe has been huge for me as a designer to push me and develop. To work so close to him for  15 years now is huge.
Carissa has been massive.
Tyler Wright won two with us; I love Tyler. And now the younger guys you know: Griffin Colapinto is number one; he's number one kind of drivy, art, design and creativity.
Yago Dora has been great but he's from another country and we are not with him every day but he's obviously the number two guy.
---
And it looks like Matt is gonna keep playing and rolling because, as he says, it is no brainer to keep doing what you love doing it. And he sure loves what he does. It is in his blood, it runs on every inch of his being and we love him for that! Can't wait to see what the future of surfboards will look like with Matt Biolos among the top shapers in the world. 
Matt Biolos shaping at Olatuberri, Pukas' brand new surfboard factory.